After immersing herself in the natural gas market we asked Katie Rushton, one of our energy analysts, to share her findings in a quick 2 minute briefing.
Here are the highlights from Katie's latest reports:
The global natural gas market is growing fast due to a number of factors:
Gas prices are low relative to other fossil fuels

In some emerging economies, supply can not meet demand


Liquefied natural gas (LNG) is on the rise as it is easier to transport
This has boosted the market for liquefied natural gas (LNG), making it more international and much larger. So what does this mean for different countries and regions?
Here is a snapshot of the situation in different regions: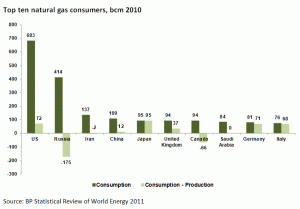 The US is the largest producer
NRG Expert's Global Guide to Natural Gas Utilities 2012 reveals that the United States became the largest producer of natural gas in 2010.  It was also the largest importer. The remaining countries in the top 10 producers are Russia, Canada, Iran, Qatar, Norway, China, Saudi Arabia, Indonesia and Algeria.
Europe is a net importer of natural gas
Eastern European countries are reliant on Russia for gas supplies. The rest of Europe has a more diversified and predominantly piped natural gas supply. Only Denmark, the Netherlands and Norway are net gas exporters, with reserves expected to last eight, sixteen and twenty-two years respectively. Overall this means that Europe will continue to rely on imports.
Gazprom dominates the market in the CIS
The CIS region is a net exporter of natural gas. Russia is the biggest natural gas exporter with state utility, Gazprom, dominating the market. Reserves of Russian gas are expected to last another seventy-five years. Increasingly competition to Russian gas is coming from Turkmenistan – a newer entrant to the natural gas market.
Arab Spring created a high degree of uncertainty over supplies
Natural gas is exported from the Maghreb region (Morocco, Algeria, Tunisia, Libya, and Mauritania (and the disputed territory of Western Sahara)), which has been recently affected by the recent Arab Spring, creating a high degree of uncertainty over supplies. Gas reserves in Maghreb are expected to last from twenty-seven years to ninety-two years for Algeria, the biggest exporter. Natural gas produced is supplied to Europe via pipelines and, to a lesser extent, as liquefied natural gas (LNG).
Nigeria has 100yrs or more of reserves
In Sub-Saharan Africa, Nigeria is the dominant player in the natural gas market. It has the 9th largest gas reserves in the world, which are estimated to last over one hundred years. The reserves are largely undeveloped, as the country has focused more on oil than natural gas.
Qatar is now the number one liquefied natural gas (LNG) exporter worldwide
The Middle East is a major region for both gas production and gas consumption.  Iran is the largest natural gas producer but exports are severely restricted by sanctions. Most exports are from Qatar, the second largest natural gas producer, and now the number one liquefied natural gas (LNG) exporter worldwide. Gas reserves in both countries are expected to last more than one hundred years. Other countries in the region have natural gas markets and significant potential markets, especially if infrastructure is developed and natural gas flaring is reduced.
In Asia, transportation distances are large
Overall, the Asia Pacific region is a net importer of natural gas, with some regional variation. Korea and Japan, for example, are major natural gas importers with very little domestic gas production. China and India are major growth markets. The distances that natural gas is transported between exporting countries such as Australia, Indonesia and Malaysia and importing countries are large. Thus, a large amount of natural gas is exported as LNG.  Within the region, deregulation varies considerably.
Production of natural gas in S & C America is limited
Very little natural gas is located in South & Central America, with nearly 66% of the regions' reserves located in Venezuela. Natural gas production here has been limited, as a large proportion of the natural gas is re-injected to enhance oil production. Trinidad & Tobago and Argentina are the two largest natural gas producers.
The future for this sector promises to hold much interest and potential impact globally. For more information and analysis on the global natural gas market, at both a global and a country level, see NRG Expert's reports:
To find out more, please call or e-mail us to discuss your specific requirements:
London:   +44 (0)20 8432 3059
Toronto:   +1 (416) 840-5847
Toll-Free (US/Canada): 1-888-NRG-XPRT
E-mail:      info@NRGExpert.com
Background information
Katie Rushton is an energy analyst at NRG Expert. She has spent the last two and a half years immersed in the energy sector and has written these reports to help consultants, analysts, businesses and investors understand the sector. She holds a graduate degree in Biochemistry from the University of Birmingham and postgraduate degrees in Toxicology from the University of Birmingham and Environmental Management from the University of Nottingham. 
NRG Expert is a London and Toronto based energy intelligence and market research publisher. NRG Expert provides up to date information and analysis of worldwide energy markets, including electricity, natural gas, coal, nuclear, renewable energy, water and waste, and all elements of energy infrastructure.