16 Dec. 2011
NRG Expert's Electricity T&D Infrastructure and Technologies report and database shows that China is set to remain the world leader in demand for Transmission and Distribution equipment after a strong 2010. In 2010 Global demand for Transmission and Distribution equipment totaled over US$130 billion with China's total coming in at just under 20% of that number. Read more
01 Dec. 2011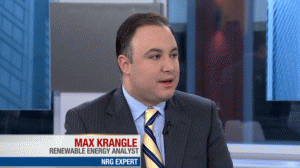 Watch the clip.Image: ©BNN/Bell Media
22 Nov. 2011
…with few projects commissioned and only in existing markets. However, this is not indicative of the state of the sector as a whole. As more money was invested in geothermal last year than the previous year.
31 Oct. 2011
A new study by NRG Expert shows that the sustainability of the world's energy supply is at risk, not only as population grows, but also as a result of depleted resources and the phasing out of Nuclear power in developed and developing countries.
31 Oct. 2011
NRG Expert is launching a new series of weekly Natural Gas Forecasting reports under the brand name NRG Expert Tracker™. The reports provide a tailored weekly look at the US Natural Gas prices, providing the best possible advice on when to buy, sell and hedge.
24 Oct. 2011
New NRG Expert "Utility Metering Deployment and Smart Grid Report & Database" reveals a strong metering industry in 2010 with worldwide growth to remain steady through 2014 and increasing deployment of Smart Metering technology.
How NRG Expert supports the press
NRG Expert research reports are available to accredited journalists free of charge. Please note all NRG Experts reports must be properly sourced.
If you have any questions please contact press@nrgexpert.com tel: +44 (0)20 8432 3059
1.5 Trillion Dollars per yr Needs to be Invested in Global Energy
Infrastructure to meet Future Energy Demand,

The International Energy Agency estimates that to meet growing energy demand, energy investment through to the year 2035, will need to