Are you looking for energy data on the Middle East?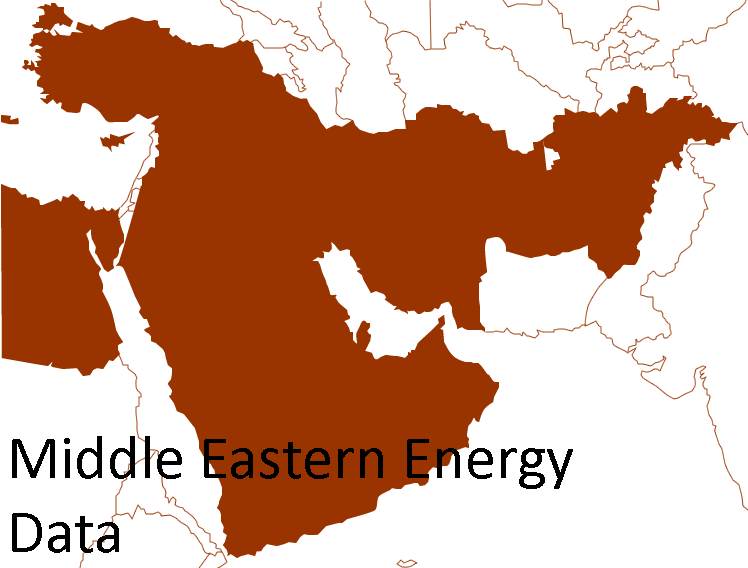 Power demand is experiencing strong growth in the Middle East while natural resources are reducing. While new oil and gas in the Middle East is found, traditional fossil fuels are being challenged by shale gas and renewables. What are the true consumption and production figures for the Middle East? NRG Expert provides the real energy statistics behind the rumours.
Our analysts have been taking an in-depth look into energy in the Middle East. They have pulled together all the essential data into the Global Energy Almanac. You can purchase the entire regional database or just purchase energy data on individual countries. 
>> Download the Order Form Now
Benefits of NRG Expert's North American Energy Database
>Access data on energy in the Middle east, often unpublished elsewhere
> Download in-depth data on individual countries, (eg Saudi Arabian energy data, Iranian energy data, Israeli energy data or Egyptian energy data),  or purchase the full collection of Middle Eastern energy data
> Access the Excel files from any web browser in the world, including smart phones
> Purchase for a one of fee or an annual subscription
> Access easy-to-use system with no software to download.
> Use the advanced search capability
> Print & download all documents
> Access detailed tables, with constant refreshment of content.
> Extract data and save to your own spreadsheet
> Good value for money compared to other online and "Terminal" data 

Energy tables and energy capacity data on the Middle East are provided on the following:
Electricity Data:
 > Electricity Transmission installed base data  > Electricity Distribution installed base  > Voltage tables, metering installations  > Smart meters  > Prices and feed-in tariffs  > Capacity by Fuel type  > Total energy production, total consumption  > Energy Imports & exports  > North American power plants listings  > Lists of Middle Eastern oil and energy companies by country (Iran, Lebanon, Israel, Saudi Arabia and more)
Gas Data:
 > Proven Middle Eastern natural resources such as Saudi oil  > Gross natural gas production  > Production for consumption  > Flared gas data  > Imports & exports, consumption, prices  > Meters installed, smart grid  > Middle Eastern oil and gas companies listings
Water Data 
 > Access to drinking water data  > Annual renewable water resources  > Fresh water withdrawal  > Installed meters, smart meters  > Water supply companies listings
Petroleum Data & BioFuels Data
 > Emissions from consumption
> Proven natural resources of oil and gas in the Middle East  > Petro-distillation capacity, petro-production & consumption  > Imports and exports of oil and gas in the Middle East  > BioFuel production & consumption  > Fuel ethanol production & consumption, and Bio Diesel
Renewable energy for North America
 > Generation capacity data on Middle Eastern renewable energy  > Generating capacity of hydro and ocean energy  > Data on wind energy and solar energy capacity  > Geothermal power data  > Data on biomass capacity
North American Countries Covered
> Energy in Bahrain > Energy in Iran > Energy in Iraq > Energy in Israel > Energy in Jordan > Energy in Kuwait > Energy in Oman > Energy in Lebanon > Energy in Qatar > Energy in Saudi Arabia > Energy in Syria > Energy in the United Arab Emirates > Energy in Yemen

Market Research On Specific Energy Types in the Middle East is also available in our reports on gas, oil, coal, renewables, electricity, T&D, power infrastructure, water, metering and smart grid.
For bespoke energy data and power statistics on energy in the Middle East email info@nrgexpert.com  or order the NRG Expert Almanac click below:
>> Download the NRG Expert Almanac Brochure