Are you looking for Canadian, Bermudian, Mexican and US energy data ?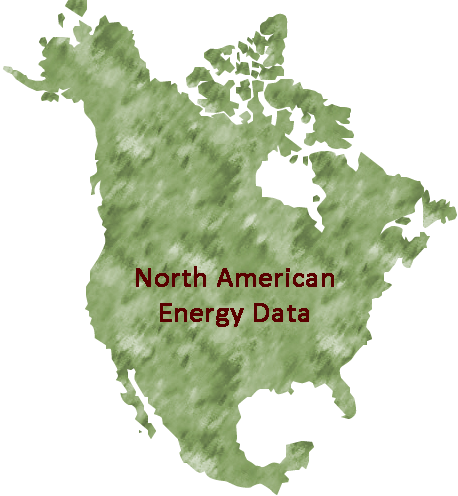 With Barack Obama focusing heavily on the USA's energy future, there has been a growing interest in North American energy data. NRG Expert's teams of energy analysts have therefore researched hundreds of data sources, to compile a database of essential North American energy statistics. This data is available in the NRG Expert Almanac
>> Download the Order Form Now
Benefits of NRG Expert's North American Energy Database
> Access North American power data, often unpublished elsewhere
> Download in-depth data on individual countries, (eg USA energy data, Canadian energy data, Bermudian energy data or Mexican energy data),
> Or purchase the full collection of North American energy data
> Access Excel files from any web browser in the world, including smart phones
> Purchase for a one of fee or an annual subscription
> Access easy-to-use system with no software to download.
> Search for key words and phrases using the advanced search capability
> Print & download all documents
> Access detailed tables, with constant refreshment of content.
> Extract data and save to your own spreadsheet
> Good value for money compared to other "Terminal" data services
Energy tables and energy capacity data are provided on the following:
Electricity Data:
 > Electricity Transmission installed base data  > Electricity Distribution installed base  > Voltage tables, metering installations  > Smart meters  > Prices and feed-in tariffs  > Capacity by Fuel type  > Total energy production  > Total consumption  > Energy Imports & exports  > North American power plants listings  > Listings of electrical supply industry companies in North America, US, Mexico, Bermuda and Canada
Gas Data:
 > Proven north American natural resources  > Gross natural gas production  > Production for consumption  > Flared gas data  > Imports & exports, consumption, prices  > Meters installed, smart  > North American Gas companies listings
Water Data 
 > Access to drinking water data  > Annual renewable water resources  > Fresh water withdrawal  > Installed meters, smart meters
> Water supply companies listings
Petroleum Data & BioFuels Data
 > Emissions from consumption  > Proven natural resources  > Petro-distillation capacity,
> Petro-production & consumption  > Crude oil imports and exports  > BioFuel production & consumption  > Fuel ethanol production & consumption
> Bio Diesel
Renewable energy for North America
 > Generation capacity data on renewable energy  > Generating capacity of hydro and ocean energy  > Data on wind energy and solar energy capacity  > Geothermal power data  > Data on biomass capacity
North American Countries Covered
 > Canadian energy  > Mexican energy  > US energy  > Bermudian energy

In-depth Market Research On Specific Energy Types  is also available in our reports on gas, oil, coal, renewables, electricity, T&D, power infrastructure, water, metering and smart grid.
For US, Canadian, Bermudian and Mexican energy data and North American power statistics email info@nrgexpert.com or click one of the links below:
>> Download the NRG Expert Almanac Brochure
>> Download the NRG Expert Almanac Order Form